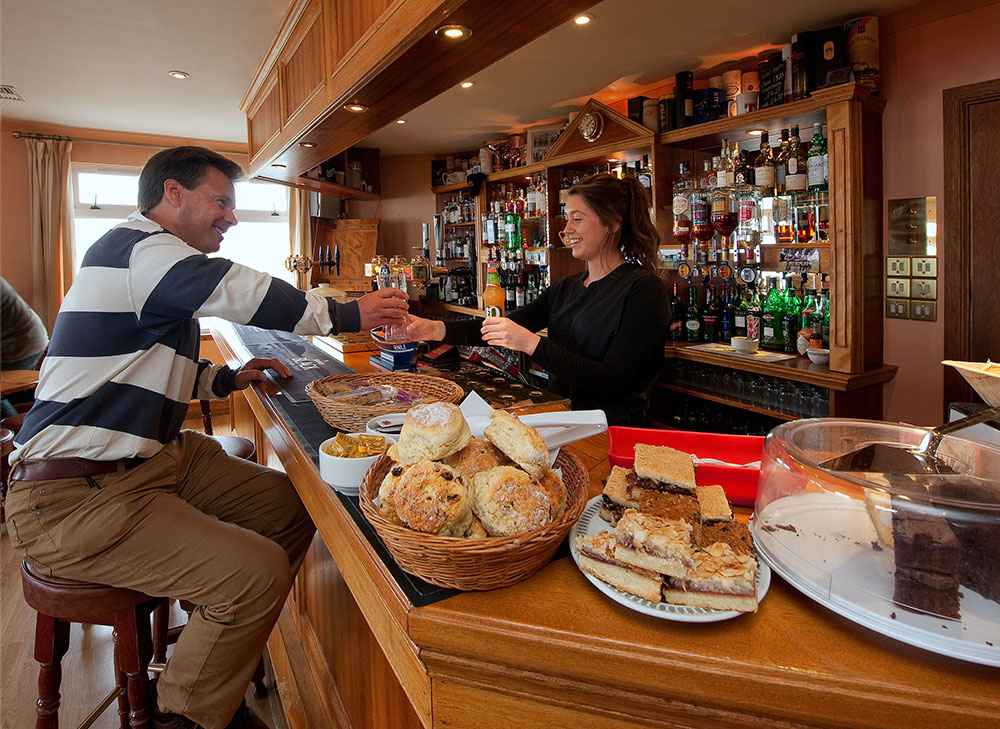 The restaurant and bar are not currently open. We are intending to re-open at the beginning of April 2022. So we are looking for people for the 2022 season in Cafe, Kitchen, Housekeeping, Food Prep and Gardening. If interested, email ionamartyrsbay@gmail.com for further information.
We are perfectly situated by the pier overlooking the Sound of Iona. Ideal for dolphin watching or waiting for the ferry.
Café
Our spacious self-service cafe is currently closed.
Bar
The bar is currently closed.

Restaurant
The restaurant is now closed for evening meals.

Wine Menu
1 SAUVIGNON BLANC
Still Bay (South Africa)
Rich and fruity aromas with hints of grass. Ripe gooseberries and pears on the palate.
2 PINOT GRIGIO
Villa Molino (Italy)
Straw in colour with light golden hues. It has a fruity bouquet and a subtle, fresh flavour.
3 CHARDONNAY
Red Rock (Australia)
Full of peach and stone fruit characters, this easy -drinking Chardonnay ticks all the boxes.
4 PICPOUL DE PINET
D. Combe Rouge (France)
A dry white wine with a light and delicate style, pale gold colour and fresh fruity, floral aromas leading in to a refreshing palate.
6 Cabernet Rose
Torreeon de Paredes (Chile)
Bright pink in colour, this wine has aromas of ripe strawberry with hints of jam. Young fruity and fresh on the palate with well-balanced acidity and a touch of sweetness on the finish.
7 SANGIOVESE
Arche (Italy)
This is a lovely, soft, spicy Sangiovese. Dark ruby in colour with herbaceous cherries and violets on the nose, followed by a good, medium-weight palate.
8 MERLOT
Still Bay (South Africa)
Medium-bodied with rich dark fruits on the palate and juicy tannins.
9 SHIRAZ
Red Rock (Australia)
Rich, savoury Shiraz from South-Eastern Australia with dark chocolate, cinnamon and white pepper on the finish.
10 PROSECCO
Santi Nello (Italy)
Well-balanced with plenty of peachy fruit, a gentle mouth-feel and a delicate, light finish. Perfect on it's own or with fish and delicate starters.


Contact Us
Please contact use with any questions and we will be happy to help.
Martyrs Bay Restaurant
Isle of Iona, PA76 6SJ
01681 700382